Tucson Chronicles Free Download
---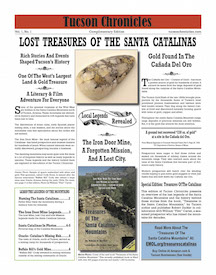 Download a complimentary copy of this edition of the Tucson Chronicles tabloid newspaper. Click on the PDF link and a new web browser page will open so the copy can load. It may take a few moments, depending on your device's download speed.
Click the PDF link to download the first edition of the Tucson Chronicles. Save the document to your PC or mobile debice to read later. This edition of the Tucson Chronicles can be freely distributed.
---
New Local Tucson Books Featured
The Entertainment Magazine, in conjunction with BZB Publishing (the publisher of EMOL.org and the Entertainment Magazine) is producing print and digital books for the public. Copies are available through Amazon.com and other retailers. Read sample chapters of the following new releases:
Tucson Chronicles
Contact The Tucson Chronicles:
BZB Publishing, Inc.
Mail: P.O. Box 91317
Tucson, Arizona 85752
Email: [email protected]
Call: 520-623-3733
Web: EMOL.org/TucsonChronicles
Copyright and Permission of Use:
© 2015 Tucson Chronicles (TM) . The Tucson Chronicle is published by BZB Publishing, Inc. All rights are reserved. No part of the material protected by this copyright may be reproduced or utilized in any means, electronic or mechanical, without written permission from the publisher, except for credited quotes. Email a copy or reference of republished content to

[email protected]
Permission is granted to use quotes and cite references to the contents in this book with proper credit noted: "Treasures of the Santa Catalina Mountains," © Robert E. Zucker."
---
---
© 2015-2023 BZB Publishing/Entertainment Magazine. All rights reserved.